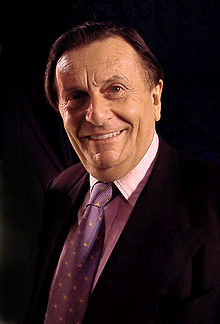 John Barry Humphries
(born February 17, 1934) is an Australian comedian, satirist, artist, and author. Humphries is best known for writing and playing his on-stage and television alter egos Dame Edna Everage and Sir Les Patterson and his roles in films including
The Hobbit: An Unexpected Journey
as the
Great Goblin
. He is also a film producer and script writer, a star of London's West End musical theatre, an award-winning writer and an accomplished landscape painter. For his delivery of dadaist and absurdist humour to millions, biographer Anne Pender described Humphries in 2010 as not only "the most significant theatrical figure of our time … [but] the most significant comedian to emerge since Charlie Chaplin". Humphries' characters have brought him international renown, and he has also appeared in numerous films, stage productions and television shows. Originally conceived as a dowdy Moonee Ponds housewife who caricatured Australian suburban complacency and insularity, Edna has evolved over four decades to become a satire of stardom, the gaudily dressed, acid-tongued, egomaniacal, internationally feted Housewife Gigastar, Dame Edna Everage. Humphries' other major satirical character creation was the archetypal Australian bloke Barry McKenzie, who originated as the hero of a comic strip about Australians in London (with drawings by Nicholas Garland) which was first published in 
Private Eye
magazine. The stories about "Bazza" (Humphries' nickname, as well as an Australian term of endearment for the name Barry) gave wide circulation to Australian slang, particularly jokes about drinking and its consequences (much of which was invented by Humphries), and the character went on to feature in two Australian films, in which he was portrayed by Barry Crocker. Humphries' other satirical characters include the "priapic and inebriated cultural attaché" Sir Les Patterson, who has "continued to bring worldwide discredit upon Australian arts and culture, while contributing as much to the Australian vernacular as he has borrowed from it", gentle, grandfatherly "returned gentleman" Sandy Stone, iconoclastic 1960s underground film-maker Martin Agrippa, Paddington socialist academic Neil Singleton, sleazy trade union official Lance Boyle, high-pressure art salesman Morrie O'Connor and failed tycoon Owen Steele.
Ad blocker interference detected!
Wikia is a free-to-use site that makes money from advertising. We have a modified experience for viewers using ad blockers

Wikia is not accessible if you've made further modifications. Remove the custom ad blocker rule(s) and the page will load as expected.