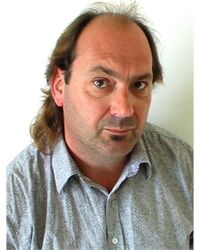 Carlton "Carl" McRae
(born January 19, 1963) is a New Zealand actor who worked as a scale double for
Sylvester McCoy
in
The Hobbit
trilogy, played a
Laketowner
in
The Desolation of Smaug
and
The Battle of the Five Armies
, himself playing guitar and backing vocals and an Orc Fodder in Absentia in the parody shorts
Who the 'Ell Is Tauriel?
and
Dwarf on a Pig
.
Filmography
Edit
Short Film
Edit
The Shape (2006) - The Shape
Redundant (2006) - Hired Hitman, O'Neill
Epiphany Inc (2006) - Businessman, Mike Andrews
Black & White (2008) - Psychiatric Patient
Raising Cane (2009) - Minister of Internal Affairs
Pot Luck (2011) - Paranoid Drug Dealer
Who the 'Ell Is Tauriel? (2013) - Himself - Guitar, Backing Vocals
Dwarf on a Pig (2014) - Orc Fodder in Absentia
When Mani Meets Moth (2015) - Father
Behind the scenes
Edit
McRae is a singer/songwriter and was in the California Dreamers'with William Kircher (who portrayed as Bifur in the trilogy), and also fronts his own band, The Psychedelic Lemons. [1], plus The Rough Diamonds.
McRae also worked with Peter Jackson in King Kong and Mortal Engines.
McRae is the husband of Annette McRae and the father of Rupert and Dorian McRae.
Notes and references
Edit
Ad blocker interference detected!
Wikia is a free-to-use site that makes money from advertising. We have a modified experience for viewers using ad blockers

Wikia is not accessible if you've made further modifications. Remove the custom ad blocker rule(s) and the page will load as expected.