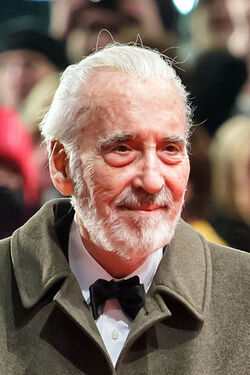 Sir Christopher Frank Carandini Lee
(May 27, 1922 - June 7, 2015) was an English actor and singer who portrayed
Saruman
in
An Unexpected Journey
and
The Battle of the Five Armies
.
Behind the scenes
Edit
Lee had also worked with Peter Jackson as the same role in The Lord of the Rings trilogy.
The Hobbit was the second prequel trilogy he and Richard Armitage had been involved in, the first being the Star Wars prequel trilogy.
Melissa Kern, Peter Lapsley, Lee, Andrew Lesnie, and Richard Whiteside all passed away less than a year after The Battle of the Five Armies was released and before the release of its extended edition.
Ad blocker interference detected!
Wikia is a free-to-use site that makes money from advertising. We have a modified experience for viewers using ad blockers

Wikia is not accessible if you've made further modifications. Remove the custom ad blocker rule(s) and the page will load as expected.