Fredegar Chubb

Vital statistics

Birth
Third Age
Death
Age
Unknown
Fate
Gives Bilbo Baggins a fish in his cart.

Physical attributes

Hair color
Black
Eye color
Dark
Gender
Unknown
Weapon
Unknown
Race
Hobbit
Actor
Eric Vespe
Fredegar Chubb was a Hobbit of the Shire who worked as a fishmonger and sold fishes at the Green Dragon Inn market inn TA 2941.
Biography
Edit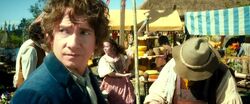 In
TA 2941
, when
Bilbo Baggins
visited the
Green Dragon Inn
market shortly after meeting
Gandalf
, he went to Fredegar's cart and bought a fish while he was on the lookout for the Wizard.
Behind the scenes
Edit
Fredegar was portrayed by Eric Vespe in The Hobbit: An Unexpected Journey, but his scenes were cut from the theatrical version, but were included in the extended edition.
Fredegar's name came from the website Chris Wetherell.com where browsers could learn their secret Hobbit name and when Sebastian Meek, Peter Jackson's assistant looked up for Eric Vespe's Hobbit name, it revealed to be "Fredegar Chubb", which according to Eric, was an unfortunate name for a portly fishmonger, but it his character's name became official.
Appearances
Edit
Ad blocker interference detected!
Wikia is a free-to-use site that makes money from advertising. We have a modified experience for viewers using ad blockers

Wikia is not accessible if you've made further modifications. Remove the custom ad blocker rule(s) and the page will load as expected.