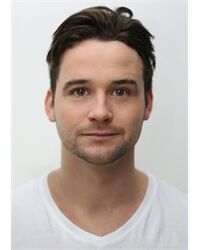 Hayden J. Weal
is a New Zealand body double and actor who worked as a stand-in and body double for
Martin Freeman
in
The Hobbit
trilogy and made a cameo appearance as a
Dwarf Gem Holder
in
An Unexpected Journey
and a
Somber Villager
in
The Battle of the Five Armies
.
Behind the scenes
Edit
While filming his cameo in An Unexpected Journey, Richard Armitage and Lee Pace called his character in the film, "Herman Goldstein the Jeweler".
Ad blocker interference detected!
Wikia is a free-to-use site that makes money from advertising. We have a modified experience for viewers using ad blockers

Wikia is not accessible if you've made further modifications. Remove the custom ad blocker rule(s) and the page will load as expected.