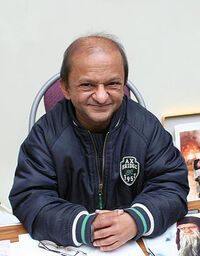 Kiran Shah
(born September 28, 1956) is a Kenyan actor and stuntman who had been in several blockbuster movies since, such as 
Superman
(1978),
Superman II
(1980), 
The Dark Crystal
 (1982), 
Star Wars Episode VI: Return of the Jedi
(1983), 
Indiana Jones and the Temple of Doom
 (1984), 
Legend
 (1985),
Aliens
(1986), 
The Sign of Four
 (1987), 
Braveheart
 (1995), and 
Titanic
 (1997) where he stunt doubled all the children in the film.
He had appeared as a stunt double or stand-in in all six of Peter Jackson's Middle-earth film franchise. He was the scale double for Elijah Wood as Frodo in The Lord of the Rings trilogy and also doubled Bilbo Baggins as played by both Martin Freeman (The Hobbit trilogy) and Ian Holm (The Lord of the Rings: The Fellowship of the Ring). Kiran had also portrayed as the Goblin Scribe in An Unexpected Journey, Master Stadle in The Desolation of Smaug, and a Laketown Refugee Child in The Battle of the Five Armies.
Ad blocker interference detected!
Wikia is a free-to-use site that makes money from advertising. We have a modified experience for viewers using ad blockers

Wikia is not accessible if you've made further modifications. Remove the custom ad blocker rule(s) and the page will load as expected.