Sigrid Bardsdottir was a young teenage girl of Esgaroth, daughter of Ingrid and Bard the Bowman, and sister of Bain and Tilda. After the Battle of Five Armies and the reconstruction of Dale, Sigrid and her sister became the first Princesses' of Dale when their father became the first King of all the Northrons in Rhovanion.
Biography
Edit
Refuge at the Long Lake
Edit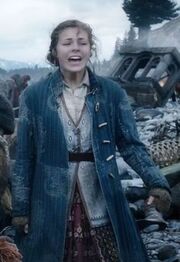 Behind the Scenes
Edit
Appearances
Edit
Ad blocker interference detected!
Wikia is a free-to-use site that makes money from advertising. We have a modified experience for viewers using ad blockers

Wikia is not accessible if you've made further modifications. Remove the custom ad blocker rule(s) and the page will load as expected.